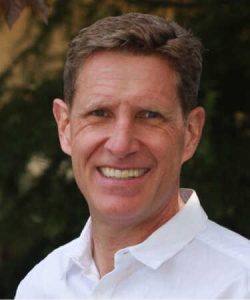 Dr. Greg Renyer is a native Oregonian, and he grew up in the Hillsboro/Forest Grove area. After high school, he became a Beaver and attended Oregon State University, majoring in general sciences and pre-dental studies. In 1991, he began attending OHSU dental school and received his degree in 1995. Dr. Renyer and his wife, Jennifer, love the Willamette Valley, so they decided to put down roots right here in Albany. After three years of practice together, he and Dr. Kutsch became business partners in 1999.
His passion within dentistry is advanced restorative work, so he decided to get his postdoctoral dental training through the Kois Center. In 1999, he started attending courses and loved the program so much that he became a mentor dentist for the Center in 2003. As a mentor, he enjoys helping pass on his knowledge of treating more complex cases to other dentists who attend the Kois curriculum. Dr. Renyer has an exceedingly strong desire to keep up with the best dental training available and attends many dental continuing education courses throughout the year. He truly loves his career and is excited by all aspects of dentistry, from the most complex restorative cases to the simplest of procedures. Giving back to the community is also one of Dr. Renyer's main interests, and he enjoys volunteering at the Boys and Girls Club of Albany's dental clinic.
In his free time, Dr. Renyer enjoys gardening, playing his guitar in a local rock band, traveling and spending time with his family. The Renyer family enjoys camping, spending time at the Oregon coast and exploring the local lakes during the summer.
Dr. Renyer's wife, Jennifer, is actively involved in the practice, working in the financial department. She is also very active in the community, being a member of various community projects. His son and daughter both attended West Albany High School. Karissa, his daughter, attended OSU, and is now enrolled at Oregon Health Sciences University studying to become a dentist herself. His son, Nick, is currently attending OSU and is studying finance.
Kois Trained Dentist
At Pinnacle Dental Associates, we strive to be the best clinicians possible. That is why we have made the commitment to be part of the most advanced continuing education programs in the nation. We do not want to just be good dentists: we want to be great dentists. Because our patients deserve the best, Dr. Renyer has received extensive postgraduate education at the world-renowned Kois Center in Seattle. As part of this training, Dr. Renyer has taken the necessary coursework and exams to achieve mentor status at the facility. Watch the video to see what it means to be a Kois trained dentist.